The 2023 European Open Pool Championship, held at Hotel Esperanto in Fulda, Germany, has reached an intense phase as the field narrows down to the final 16 players. The tournament, which is being broadcast live on DAZN in the USA and various networks worldwide, has seen some surprising upsets and thrilling matches. Let's delve into the highlights of the fourth day and explore the players who have advanced to the next round.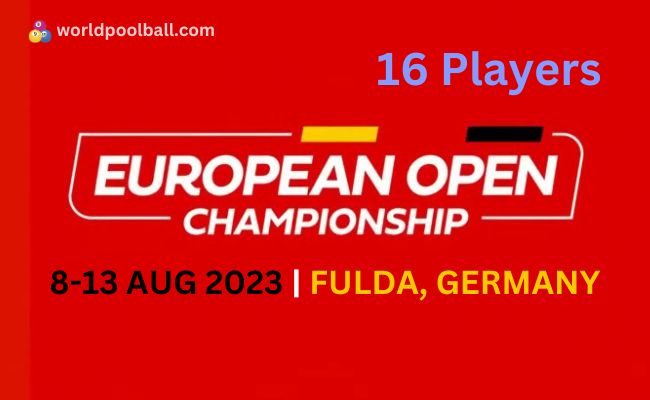 Heavy Hitters Fall: Albin Ouschan, Ko Pin Yi, Johann Chua, and Jayson Shaw
The fourth day of the championship witnessed the exit of some notable players, including defending champion Albin Ouschan, Ko Pin Yi, Johann Chua, and Jayson Shaw. Despite their strong reputations, they faced tough challenges and were unable to secure their positions in the tournament.
Shaw's Unfortunate Exit
Jayson Shaw, who had been considered one of the contenders, faced a challenging match against defending champion Albin Ouschan. In a closely contested game, both players struggled to find their rhythm, leaving balls hanging and missing crucial shots. Ultimately, Ouschan managed to maintain a slight lead throughout the match, and despite Shaw's efforts to make a comeback, he fell short. This loss marked a surprising early exit for Shaw.
Ouschan's Journey Continues
Albin Ouschan's victory over Shaw propelled him to the Last 32, where he faced Poland's Daniel Maciol. Maciol had earlier caused a major upset by knocking out former World Champion Mika Immonen. In a remarkable turn of events, Maciol's skillful play and determination led to Ouschan's unexpected elimination from the championship.
Chua's Triumph and Fall
Johann Chua managed to secure a victory earlier in the day against Vietnam's Nguyen Cong Thanh. However, his journey took a swift turn as he faced Aloysius Yapp, a former US Open finalist, in the subsequent match. Yapp's exceptional performance gave him a significant lead, and despite Chua's efforts to stage a comeback, he was unable to turn the tide. Aloysius Yapp's dominance secured his spot in the Last 16.
Ko Pin Yi's Statement
Ko Pin Yi made a strong statement in the Last 64 by defeating Georgi Georgiev with an impressive score of 10-1. This victory showcased Ko's skill and determination in the championship. However, his journey was cut short by Anton Raga, who displayed exceptional form and defeated Ko with a flawless performance, leaving him without a chance to advance further.
Memorable Matchups and Standout Performances
Throughout the day, the audience was treated to exciting matchups and remarkable performances. The intense competition and high-stakes matches made for a thrilling viewing experience. Notable encounters included an all-American battle between Skyler Woodward and Tyler Styer, with Styer securing a convincing victory and setting up a tie with Mario He for the next round.
Local Favorites and Surprises
The local favorites faced mixed outcomes on the fourth day of the championship. While some managed to advance further, others experienced unexpected exits. Konrad Juszczyszyn put an end to Moritz Neuhausen's hopes of a weekend appearance, and Shane Van Boening eliminated Fitim Haradinaj from the competition. The tournament also saw standout performances from players like Tim De Ruyter and Tobias Bongers.
The Road to the Last 16
As the tournament progresses, the competition becomes more intense. Ralf Souquet's victory set up an exciting clash with WNT number one Francisco Sanchez Ruiz for a spot in the Last 16. Meanwhile, Joshua Filler showcased his dominance with a commanding win against Karl Gnadeberg, securing his place in the next round. Hometown hero Thorsten Hohmann faced challenges but ultimately succumbed to Shane Van Boening.
READ ALSO: European Open Pool Championship 2023 Results
Session Times and Betting Odds
For those eagerly following the championship, the session times are as follows:
12 August: 12 pm – 4:30 pm / 6:30 pm – 11:00 pm (CEST)
13 August: 12 pm – 4:30 pm / 6 pm – 9 pm (CEST)
Joshua Filler and Van Boening are the odds-on favorites at 8/1, followed closely by Sanchez Ruiz at 10/1 in outright betting markets. Fans can find full odds on various online gaming platforms.
Where to Watch
Fans from different parts of the world can catch the action live through various broadcasters. UK and Ireland-based viewers can tune in to Sky Sports for the final two days, while fans in the USA can enjoy all six days on DAZN. Scandinavian, Baltic, Polish, and Dutch viewers can watch via Viaplay. Fans in the Philippines can follow the matches on TAP Go, and those in Vietnam can tune in to VietContent channels. German viewers can watch the final two days on Sport1.
Conclusion
The 2023 European Open Pool Championship has been a roller-coaster of thrilling matches, surprising upsets, and outstanding performances. As the tournament progresses towards its culmination, the remaining 16 players are prepared to showcase their skills and determination, ensuring that the championship remains an unforgettable spectacle for all pool enthusiasts.
For those who don't want to miss out on any of the gripping moments, a link has been provided for direct access to the live action here.