It's been more than a month since the European Open Pool Championship 2023 ended, and now it's time for the US Open Pool 2023! Everyone is excited to see the thrilling collision between the top 256 pool players at Harrah's Resort, Atlantic City. As the tournament date approaches, excitement is increasing to the next level. But for now, my concern is how to watch the US Open Pool Championship 2023 Live from anywhere.
US Open Pool 2023 will be streamed live on DAZN in Spain and USA. Besides, SkySports will broadcast the event in the UK and Fox Sports in Australia. You also can watch the event live on Matchroom.live from anywhere in the world.
If you live in a different country, keep reading to learn more about watching this exciting US 9-ball pool tournament live. I will also explore some free streaming platforms with you. Let's get started!
| | |
| --- | --- |
| Date: | September 25-30, 2023 |
| Venue: | Harrah's Resort, Atlantic City |
| Start time: | From 10:00 am, EST (All Days) |
| Live Stream: | Watch |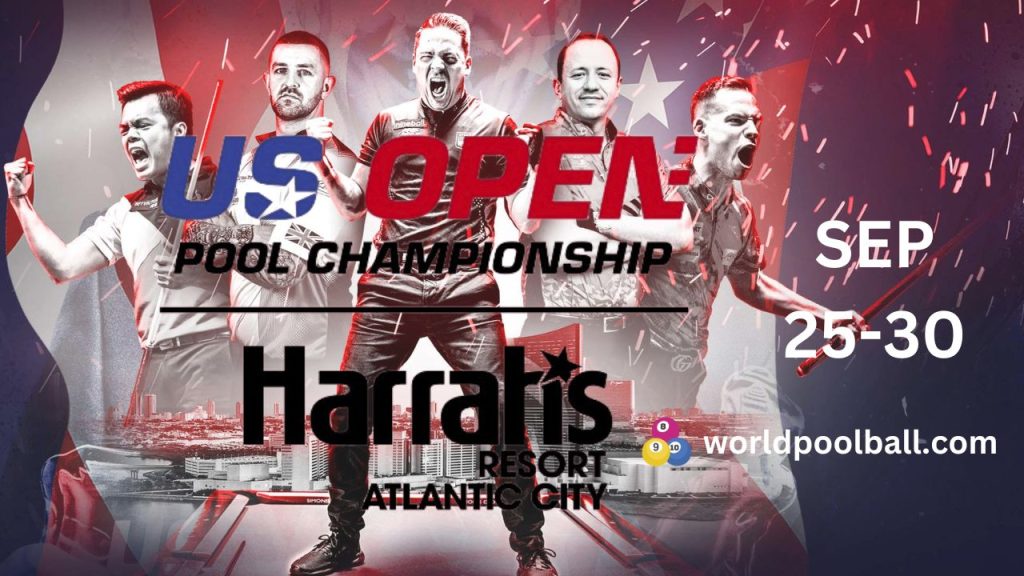 US Open Pool Overview
The US Open Pool is a 9-ball pool championship organized by Matchroom Sport that has a longer history than all the open pool tournaments. It has been held every year since 1976. This year, it is the 46th annual US Open Pool Championship.
A total of 128 players from around the world will participate in the game to achieve the ultimate glory from a field of 256.
Last year, Francisco Sanchez Ruiz from Spain won the US Open Pool Championship. Also, he will participate this year as a favorite player in the tournament. The fans of this open pool tournament can enjoy its live stream from different countries.
How do I watch the US Open Pool 2023 Live?
To watch live rack-by-rack scoring of every match of the event, visit www.matchroompool.com/live-scores. But for the live match, you have the following best options.
DAZN
If you are in the USA, Brazil, Spain, Canada, or Italy, DAZN is the best online network to enjoy the USA Open Pool 2023 event. DAZN offers its live streaming for a subscription of $19.99 per month in a 12-month plan. But if you buy a monthly plan, it will cost you $24.99.
Sky Sports
For the UK and Ireland 9-ball pool game, Sky Sports is one of the best live-streaming channels. You can purchase its subscription for £46 per month. You can also watch the Sky Sports channel on the Now TV App, Sky Go, and Sky Sports Mobile.
Viaplay
If you currently reside in Scandinavia, Poland, the Baltics, or the Netherlands, you can enjoy US Open Pool 2023 live streaming on Viaplay.
The one good thing about Viaplay is that, if you are not already a subscriber, you can enjoy this event for free.
It offers a two-week free trial. But if you want a permanent subscription, it's £14.99 per month or £11.99 if you purchase a 12-month plan.
TAP Go
In the Philippines, TAP Go offers a US open pool 2023 live stream. TAP Go subscriptions for sports and entertainment are P179 per month.
However, you will receive a discount if you purchase a lifetime subscription, and the monthly cost will drop to P129. However, you can also enjoy this event for free because TAP Go offers a one-week free trial.
VietContent Channels
For fans residing in Vietnam, VietContent is an excellent live-streaming platform. You can enjoy VietContent channels on smartphone apps, iPad, iPhone or Android. It is also available on STBs such as Android, Amazon Fire, Google, and Roku.
Matchroom Pool and Multi-Sport YouTube Channels
If you reside in a country other than the above countries, then Matchroom Pool and Multi Sports YouTube Channels can let you watch live matches.
You can enjoy the matches for free, but unfortunately, they are only available for the first 4 days. But if you want to enjoy the complete tournament, then it is better to subscribe.
You can sign up for a monthly subscription to Matchroompool for $5.99.
Other live streaming platforms in different countries
Some other platforms around the world will broadcast the US Open Pool Live. Here's the list of platforms in different countries:
| Streaming platform | Available in (Countries) |
| --- | --- |
| AMC | Hungary |
| Nova | Czech Republic and Slovakia |
| Starhub | Singapore |
| Fox Sports | Australia |
| Sportklub | Bosnia and Herzegovina, Croatia, Macedonia, Montenegro, Serbia, and Slovenia. |
| Reddentes | Chinese Taipei / Indonesia |
| Supersport | South Africa & Sub-Saharan Africa |
| Sport1 | Germany, Austria, Switzerland, ​​​​​Luxembourg and Liechtenstein |
Note: If your country is not available in the list, watch the US Open Pool in Matchroom.live.

US Open Pool 2023 Live Streaming Schedule
Depending on which city you are living in, you may have to sit in front of the TV screen at different times of the day to watch the US Open Pool 2023 Live.
2023 US Open Pool Session Times (EST):
Start time for Days 1-4: From 10 am daily
Start time Day 5: 10 am – 2:30 pm / 4:30 pm – 9:00 pm
Start time Day 6: 10 am – 2:30 pm / 4:30 pm – 7:00 pm
Note: If you are in a different region or country, you must confirm your time according to the above schedule since Atlantic City's time is based on the USA time zone.
Start Time in Different Cities:
| City | Start Time |
| --- | --- |
| Atlantic City | 10:00 am |
| New York | 10:00 am |
| London | 3:00 pm |
| Las Vegas | 7:00 am |
| Fulda | 4:00 pm |
| Vienna | 4:00 pm |
| Hanoi | 9:00 pm |
| Tokyo | 11:00 pm |
| Brisbane | 12:00 am |
All About US Open Pool 2023:
I have been excited about the US Open Pool 2023 for months and keep tracking all the news regarding the event. Here are some of the must-know information about the event:
Format for US Open Pool
The US Open Pool Championship 2023 has a double elimination format for the players until only 64 left. After that, the championship elimination format changed to single elimination.
At this stage, players must complete a challenging format to win a prize of $50,000. However, here I have listed the complete format of the tournament:
Rules:
"9 on the Spot": The 9-ball is racked on the foot spot at the beginning of each game.
"Matchroom Break Box": Players must use a specific breaking box or area for the break shot.
"Winner Breaks": The player who wins a game gets to break in the following game.
Match Formats:
Until the Last 64 stage:

Matches are played as race-to-9.
The first player to win 9 games is declared the winner on the winners' side and in the losers' qualification matches.
On the losers' side, matches are played as race-to-8.

From the Last 64 stage to the Last 16 stage:

Matches are played as race-to-10.

Quarterfinals and Semifinals:

Matches are played as race-to-11.

Final Match:
Selected First Round Matches
Francisco Sanchez Ruiz v John Weber
Jayson Shaw v Robert Hart
Shane Van Boening v Andrew Finnigan
David Alcaide v Kenichi Uchigaki
Fedor Gorst v Sam Henderson
Joshua Filler v Pierfrancesco Garzia
Ko Pin Yi v Sean C. Morgan
Tyler Styer v Franklin Hernandez
Skyler Woodward v Charles Carlise
Duong Quoc Hoang v Joey Tate
Anton Raga v Nelson Bueno
Khalid Alghamdi v Christoph Neumayer
Prize Pool
Here's the full prize pool breakdown for the US Open Pool 2023:
European Open Pool 2023: Prize Pool

Prize Money for Each Player
Ticket Information
Here's the ticket price for the US Open Pool Championship 2023:
| Ticket type | Price |
| --- | --- |
| Day tickets | $35 |
| Premium Final Day | $90 |
| Season Pass | $150 |
| Season Pass Premium | $210 |
A season or premium season pass is the best option for you if you are a big fan of open pool.
Note: Every day, come at least half an hour before the start of the game to get hassle-free entry.
FAQs:
Can anyone get entry to the US Open Pool Championship 2023?
Yes, but only men are allowed; anyone can get entry to the tournament after paying the entry fee. There is a separate tournament for women, so only men can play in this event.
How much is the entry fee for the player to enter the US Open pool tournament?
The entry fee for the players is $1000, but if you are the winner of any previous event, you will get free entry. However, you can also pay the fee in installments. Pay at least a 25% fee at the time of entry.
Can I watch the US Open Pool 2023 on mobile devices?
Yes. If you have a subscription to Matchroom.live or any other streaming platform that is streaming the US Open Pool 2023 live, you can watch it on mobile devices too.
Will there be any restrictions for the spectators to watch the matches?
No, there are no restrictions on attendance at the US Open Pool Tournament 2023. But remember, the seats are limited, especially in the final two days.
How can I stay updated with the latest news and live scores about the US Open Pool 2023?
You can check Matchroom Pool's official website to stay updated with the latest news about the US Open Pool 2023. You will also get updates about other events.
Final Thoughts
Can the 25th of September come any faster? I can't wait to watch the thrilling US Open Pool 2023 Live! Francisco Sanchez Ruiz is the defending champion, and the event is happening in the same place. Interestingly, Francisco Sanchez Ruiz and Shane Van Boening ranked first and second position in the World Nineball Rankings. It makes me think they have a high chance of winning the 2023 US Open Pool Championship.
However, David Alcaide, Eklent Kaci, and Dang Jin Hu may also surprise us, because they will be participating as the 2023 European Open Pool Champion, 2023 UK Open Pool Champion, and 2023 Spanish Open Pool Champion in the event. Who are you cheering for?