The 2023 World Pool Masters is heating up as the world's top pool players face off in the quarter-finals. After a thrilling opening round, only eight players remain in the tournament, with each vying for a shot at the coveted title.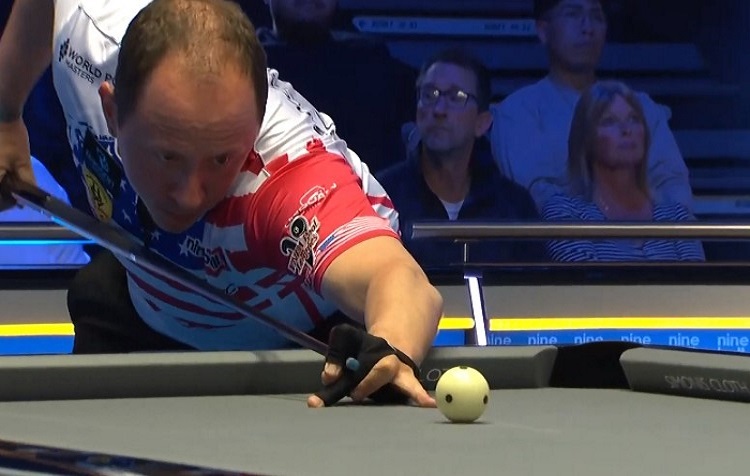 Defending champion Alexander Kazakis was unable to repeat his magic from 2021, as he fell to a determined Mario He of Austria in the round of 16. He, a two-time World Cup of Pool winner, showcased his prowess with an impressive 9-5 win over Kazakis. He's skillful use of the break was on full display, including a golden break in the third rack that put him in control early on. With his confidence high, He will be a formidable opponent in the quarters and beyond.
Another notable match saw Shane Van Boening, a former double champion, edge out David Alcaide to secure his place in the quarter-finals. Van Boening struggled early on, unable to fully master the new break, but found his rhythm midway through the match. Alcaide, a two-time winner himself, put up a strong fight but ultimately fell short as Van Boening sealed an 9-6 victory.
The quarter-finals promise to deliver more intense action as the remaining players battle it out for a place in the semis. Max Lechner will face two-time champion Niels Feijen, while James Aranas will take on Wiktor Zielinski. The highlight of the round will undoubtedly be Van Boening's clash with Ko Pin Yi, a highly anticipated match-up that promises to be a classic.
The World Pool Masters, held in Brentwood, Essex, marks the return of the tournament to the UK for the first time since 2015. With a refreshed format featuring 16 players, the prize fund has also been increased to $125,000, with the winner taking home $40,000.
The quarter-finals will be played in a race to 11 before the semi-finals and final, which will be played in a race to 13 for the first time. Fans can catch all the action live on Sky Sports in the UK, DAZN in the USA, Spain, Italy, and Brazil, as well as on Viaplay in the Netherlands, Poland, Scandinavia, and the Baltics. For viewers in countries without a broadcaster, the action can be streamed live on Matchroom.Live.
As the tension and excitement continue to build, fans of pool sports around the world are eagerly anticipating the next thrilling chapter in this year's World Pool Masters.