The inaugural Spanish Open Pool Championship, held at Pazo de Feiras e Congresos de Lugo, Spain, in partnership with The Asociación Gallega de Billar Pool (AGP), is nearing its climax with only 64 players remaining. This thrilling tournament is being broadcast live on DAZN in Spain, the USA, Italy, and Brazil, as well as Viaplay in Scandinavia, the Baltics, and Poland, and Sky Sports on the weekend.
Watch live in your country here.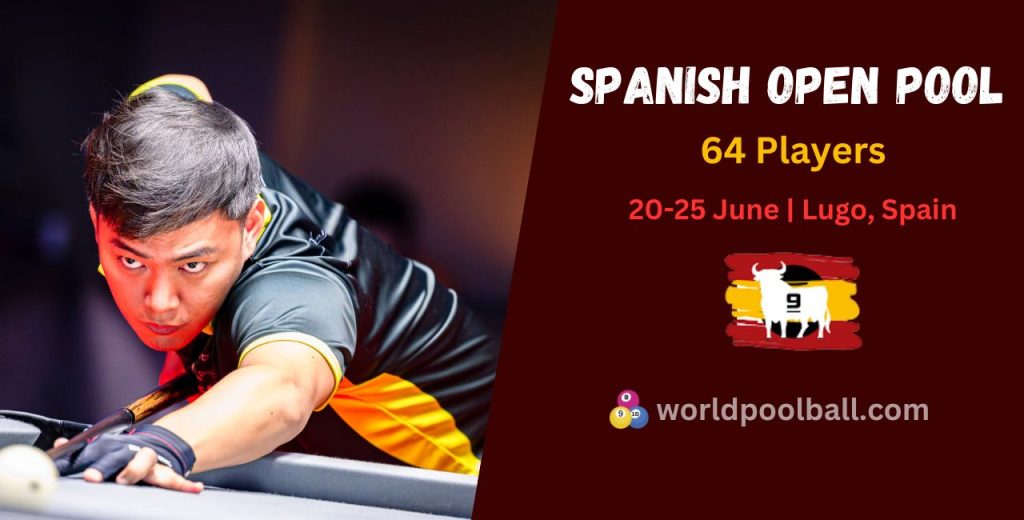 Exciting Matches and Surprising Results
The competition has been fierce, with top players showcasing their skills and battling it out for a spot in the single elimination stage. Francisco Sanchez Ruiz, the current world number one, dominated the early rounds and secured his place in the next stage by defeating Hunter Lombardo with a commanding score of 9-2. Another strong contender from Spain, David Alcaide, also had a successful day, triumphing over Duong Quoc Hoang from Vietnam with a score of 9-5. However, it wasn't all smooth sailing for the home favorites, as both Jonas Souto Comino and Jose Alberto Delgado fell short and missed out on the next stage. Souto Comino faced a surprising defeat against Justin Sajich, who outplayed him with a score of 9-2, while Delgado lost to Dimitri Jungo with a score of 9-3.
Notable Performances and Comebacks
Joshua Filler, the UK Open finalist, faced a setback in the Winners Qualification round when he suffered a crushing 9-1 loss to Johann Chua. However, Filler showed resilience and fought his way back through the losers side. In a thrilling match against Sullivan Clark, Filler staged a remarkable comeback, securing victory and advancing in the tournament. His next challenge will be against Aloysius Yapp from Singapore.
Jayson Shaw, a two-time Mosconi Cup MVP, has been quietly making his way through the tournament without a single defeat so far. He demonstrated his skills by defeating Daniele Corrieri with a score of 9-4, and the current World Pool Masters holder, Ko Pin Yi, who only managed to take one rack against Shaw. Fedor Gorst and Abin Ouschan also showcased their prowess by smoothly progressing to the next stage without facing significant obstacles.
Intense Matches and Mosconi Cup Hopes
Tyler Styer, eager to boost his chances of qualifying for the Mosconi Cup, had a thrilling hill-hill victory over Ko Ping Chung, which undoubtedly enhanced his aspirations. Ko Ping Chung, despite the loss, secured a place in the Last 64 with a win over Francisco Doval Iglesias from Spain. In another notable match, James Aranas advanced to the next stage alongside Johann Chua, even though Aranas faced the challenge of playing without his luggage, including his cues.
Gary Wilson's Remarkable Journey
Gary Wilson, a top 16 player in the World Snooker Tour, continues to impress in the realm of 9-ball pool. He achieved a remarkable victory over Mario He, ranked fourth in the WNT, in a thrilling hill-hill finish. He, on the other hand, fought through the Losers Qualification against his roommate Roman Hybler, narrowly avoiding an early exit from the tournament. The stage is now set for a rematch between Wilson and He in the next round.
Last 64 Draw – Selected Matches
The Last 64 promises even more excitement as the remaining players battle for their spots in the subsequent rounds. Here are some of the notable matchups:
Francisco Sanchez Ruiz (ESP) vs Oliver Szolnoki (HUN)
David Alcaide (ESP) vs Dimitri Jungo (SUI)
Alexander Kazakis (GRE) vs Ko Ping Chung (TPE)
Shane Van Boening (USA) vs Mateusz Sniegocki (POL)
Wu Jia Qing (CHN) vs James Aranas (PHI)
Aloysius Yapp (SGP) vs Joshua Filler (GER)
Eklent Kaçi (ALB) vs Niels Feijen (NED)
Matches will begin at 10 am (CEST). Please note that all times are subject to change.
Exciting Odds and Ways to Follow the Tournament
If you're eager to place bets on the matches, you can find the match odds online through various gaming websites. The tournament has attracted a lot of attention, and fans can't wait to see who will emerge victorious. Here are some of the outright odds for selected players:
Joshua Filler – 7/1
Francisco Sanchez Ruiz – 7/1
Shane Van Boening – 9/1
Eklent Kaçi – 8/1
Albin Ouschan – 10/1
Wu Jia Qing – 12/1
Ko Pin Yi – 12/1
Jayson Shaw – 14/1
Fedor Gorst – 14/1
David Alcaide – 24/1
Stay Tuned for Live Updates and Streaming
Broadcasting rights for the tournament have been secured by various broadcasters worldwide, ensuring that fans from different regions can enjoy the live action. The Matchroom Pool and Multi Sport YouTube channels will provide coverage in selected territories, while Matchroom.Live will stream the matches. In the UK and Ireland, Sky Sports will broadcast the final two days, while the opening four days will be available on Matchroom.Live and the Matchroom YouTube channel. Fans in the USA can watch all six days live on DAZN, while viewers in Scandinavia, the Baltics, Poland, and the Netherlands can tune in via Viaplay. Fans in the Philippines can catch the action on TAP Go, and those in Vietnam can watch on VietContent channels. In addition, live rack-by-rack scoring can be accessed on the official Matchroom Pool website (www.matchroompool.com).
Conclusion
The 2023 Spanish Open Pool Championship has reached an exciting stage, with only 64 players remaining. The competition has been intense, and the remaining contestants are poised to deliver thrilling matches. As the tournament progresses, fans eagerly anticipate the crowning of the champion. Make sure to tune in and witness the fierce battles and impressive skills displayed by the world's top pool players.
Frequently Asked Questions (FAQs)
Where is the Spanish Open Pool Championship taking place?
The Spanish Open Pool Championship is being held at Pazo de Feiras e Congresos de Lugo in Spain.
Which players are considered the favorites to win the championship?
Some of the favorites to win the championship include Joshua Filler, Francisco Sanchez Ruiz, David Alcaide, Jayson Shaw, and Shane Van Boening.
Who is the current world number one in the competition?
Francisco Sanchez Ruiz holds the top ranking in the tournament.
Where can I watch the Spanish Open Pool Championship?
The tournament can be watched live on various platforms, including DAZN, Viaplay, Sky Sports, and Matchroom.Live, Matchroom Pool and Multi Sport YouTube channels.