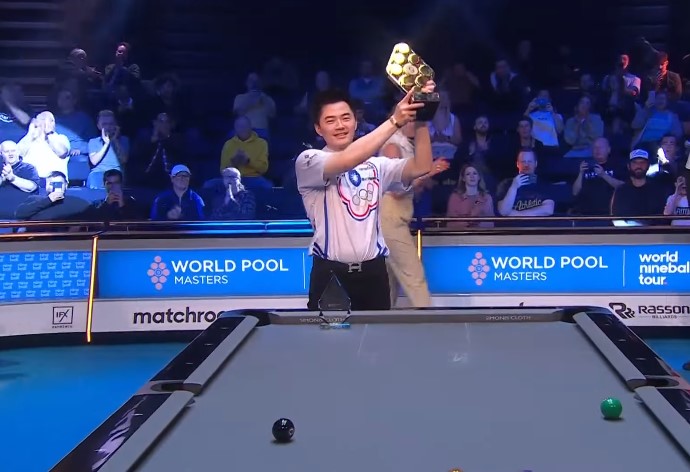 In an exciting final match, Ko Pin Yi defeated Eklent Kaçi to win the 2023 World Pool Masters title. The event took place in Brentwood, Essex, and was broadcast live on Sky Sports in the UK and around the world.
Kaçi won the lag and took the first rack with a break and run out. He had a chance to take the second rack with a 6-9 combo, but nerves got the better of him, allowing Ko to level the score. Ko took the lead in the third rack, and the two players engaged in a deep safety battle that eventually saw Kaçi take the lead.
The players traded racks back and forth, with Kaçi leading 4-3. However, a dry break from Kaçi allowed Ko to run through the next few racks, taking a commanding 7-4 lead. He then won the 12th and 13th racks with a break and run to take a 9-4 lead.
Kaçi managed to win the next rack after Ko faltered, but his hope was short-lived as he scratched on the break in the following rack. This allowed Ko to take a 10-5 lead and move closer to victory. A long safety battle in the next rack saw Kaçi miss a shot, and Ko was able to run out the table and reach the hill in quick time.
In the final rack, Ko broke well and finished with a clever 3-9 carom shot to secure his first major victory since 2015. Ko defeated Jayson Shaw in the opening round 9-1 and then knocked out Shane Van Boening in the quarter-finals 11-7. He then won a hard-fought semi-final match against James Aranas 11-9 to reach the final.
After his victory, Ko expressed his joy, saying, "It feels so good. The World Pool Masters was the one I wanted to win. After I beat Jayson (Shaw), I thought already about winning and jumping on the table. It was tough, but I feel so happy to win this tournament. I knew that the only person that could beat me was myself."
The next major event on the World Nineball Tour is the JFlowers Scottish Open, which will take place at McGoldricks Sports Bar in Glasgow. The tournament is a vital World Nineball Tour Ranking event and a crucial tune-up ahead of the UK Open Pool Championship.
The UK Open Pool Championship will take place from May 30 to June 4 at the Copper Box Arena in London, with the first-ever Jayson Shaw Junior Open scheduled for June 2-3. Fans can purchase tickets for the event starting at £15.