One of the most exciting and highly-anticipated events in the world of pool is the World Pool Championship. This year, the tournament is set to take place in Kielce, Poland from Wednesday, February 1st to Sunday, February 5th. With a whopping $325,000 prize fund on the line, the competition is sure to be fierce and thrilling.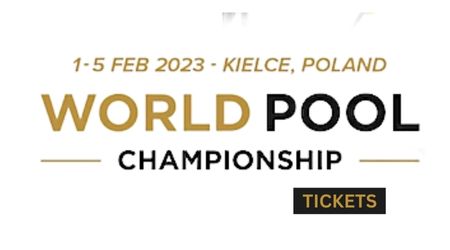 The tournament will feature 64 of the best pool players from around the world, with 40 spots reserved for the top-ranked players in the 2023 Nineball World Rankings, 50 spots allocated by the World Pool-Billiard Association, and the remaining 4 spots filled by wild card entries. This means that you'll get to see the best of the best compete for the top prize.
If you're a fan of pool or just love watching high-stakes competitions, you won't want to miss this event. Tickets are now available for purchase, with prices starting at just €5 per day or €20 for the full 5 days. This makes it an affordable option for everyone, whether you're a die-hard pool fan or just looking for a fun weekend activity.
The tournament format for the 2023 World Pool Championship has also seen some changes, with an alteration to the early rounds. While the details of the new format haven't been released yet, you can be sure that it will add an extra level of excitement and unpredictability to the competition.
Don't wait any longer to secure your spot at this incredible event. Get your tickets for the 2023 World Pool Championship now and get ready for a week of intense competition, thrilling matches, and plenty of pool action. Whether you're a seasoned pro or a casual fan, this tournament is sure to be one of the highlights of the year.