In a much-anticipated clash, Eklent Kaçi and Ko Pin Yi will go head-to-head in the final of the 2023 World Pool Masters at the Brentwood Centre in England. The match will take place at 7:00 pm tonight and will be broadcast live on Sky Sports in the UK and various other broadcasters worldwide, including Matchroom.Live in Albania and Sportscast in Chinese Taipei.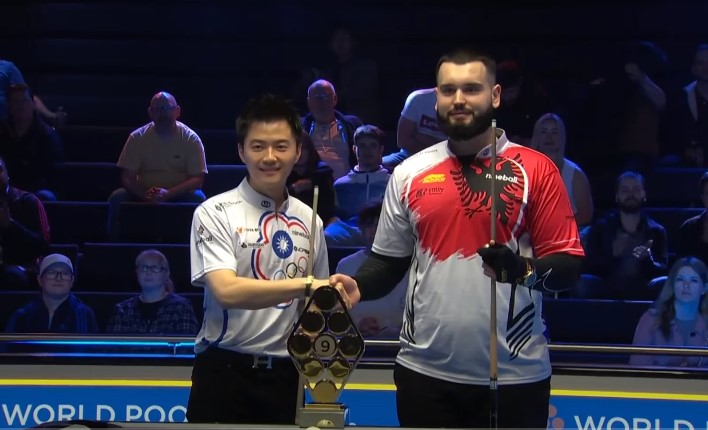 Both players had to navigate through tough semi-final matches to reach the final. Kaçi faced off against Niels Feijen in a thrilling European clash that went the distance. Feijen got off to a strong start and led 6-0 early on, but Kaçi managed to mount an impressive comeback, winning six racks in a row to level the match. From there, it was a tense affair, with both players trading racks until Kaçi eventually emerged victorious, winning 11-10 to reach his first World Pool Masters final.
Ko Pin Yi's semi-final was also a tightly contested affair, as he faced off against James Aranas. Ko took an early lead, but Aranas fought back to level the match at 2-2. The two players traded racks throughout the match, with neither able to establish a significant lead. However, in the end, it was Ko who came out on top, winning 11-9 to secure his spot in the final.
The final promises to be an exciting and closely fought encounter between two highly skilled players. Kaçi, from Albania, is a rising star in the world of pool, with a string of impressive performances on the international stage. He will be looking to cap off a fantastic tournament with a victory in the final.
Ko, from Chinese Taipei, is a former world champion and one of the most experienced players in the field. He has been in excellent form throughout the tournament, and will be hoping to add another title to his already impressive resume.
The World Pool Masters has returned to the UK for the first time since 2015, with a revamped format featuring 16 players, with 14 qualifying automatically based on their World Nineball Tour Rankings. Two wild card entries complete the field, making for a highly competitive and entertaining event.
The final will be a race to 13, with the winner taking home a prize of $40,000 from the $125,000 prize fund. Fans around the world will be tuning in to watch these two great players battle it out for the title of World Pool Masters champion.